A focus on the least invasive and most technically advanced treatment options for our patients
Greater Baltimore Neurosurgical Associates provides a broad spectrum of care for people with brain and spine disorders, diseases, injuries and back and neck pain incorporating non-surgical and surgical treatments and services.

The mission of Greater Baltimore Neurosurgical Associates is to relieve the pain and anxiety we know our patients feel and return them to the life they want to live. We accomplish that by using the most advanced surgical technologies and treating our patients and their family members with exceptional personal care. We also accomplish our mission by reaching out to the medical community in sharing neuro-scientific knowledge and techniques.
Our Team
Select a provider below to learn more
6535 N Charles St Ste 600 , Towson, MD, 21204
(443) 849-4270
$
Bimal Rami, MD, FACS, is the Director of Neurosurgery at GBMC Health Partners—Neurological Surgery. Dr. Rami earned his Doctor of Medicine degree from the University of Maryland School of Medicine and completed his residency in the University of Maryland Medical System. He is a fellow of the R Adams Cowley Shock Trauma Center/University of Maryland Medical Center. Dr. Rami is committed to providing the most advanced surgical care and utilizes the latest minimally invasive techniques and motion sparing alternatives to lumbar and cervical pathology.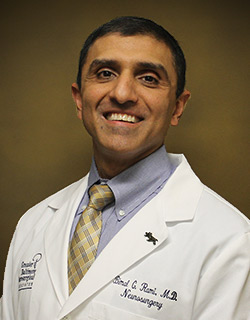 
Bimal Rami, MD, FACS
Director of Neurosurgery
Neurological Surgery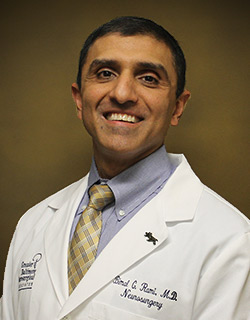 
Bimal Rami, MD, FACS
Director of Neurosurgery
Neurological Surgery

6535 N Charles St Ste 600 , Towson, MD, 21204
(443) 849-4270
$
A graduate of University of California, Davis, and medical school at the Medical College of Wisconsin. He completed his residency in neurological surgery at University of Maryland Medical Center. Prior to medicine, he worked in finance and investments at Charles Schwab, and founded UncleHarvey.com, a website dedicated to neurosurgical training.

Mark H. Iguchi, MD, FACS
Neurological Surgery


Mark H. Iguchi, MD, FACS
Neurological Surgery

Our Services
Greater Baltimore Neurosurgical Associates have devised individualized treatment for a wide range of conditions including:
Back and Spine Conditions:
Arthritis of the spine and back
Cancer of the spine
Degenerated disc
Fractures of the spine
Herniated disc of the spine
Herniated disc in the neck (the cervical spine)
Lumbar spine problems, especially chronic degeneration of the spine
Pinched nerve caused by bone spurs in the neck
Sciatica radiculopathy (a radiating pain in the hip caused by a problem with the nerve roots)
Spinal cord injuries
Spinal nerve compression
Back pain
Brain and Head Conditions:
Brain tumors
Head injuries
Head and neck pain
Hemorrhage, hematoma (blood clot), or swelling affecting the brain
Other Conditions:
Nerve entrapment syndromes, including Carpal Tunnel
Peripheral nerve injuries
Patient Forms and Resources
Outside Resources
Your First Appointment
Motor Vehicle Injuries and Worker's Compensation
Please be sure to mention if you are being seen as a Worker's Compensation Patient or if you were injured as a result of a motor vehicle accident. Specific paperwork is required which may delay your care if not properly obtained.
Prior X-Ray, CT Scans, MRIs
Please bring your most recent X-Rays, CT Scans or MRIs and the typed report. We request that you bring films-- not a CD of your images.
Insurance Plans
Please inform our staff of your insurance plan when you call. If your insurance plan requires that you have a referral, please contact your primary care doctor's office to obtain one. Our staff will assist you in determining whether or not you need a referral. We are required to collect co-pays at the time of your visit.
During Your Visit
We ask that you fill out a
new patient registration form
, or confirm your existing information if you have been to our center before. You may bring someone with you into our exam room. Our nursing staff will escort you and your family member or visitor back to our examination rooms where we will conduct a thorough evaluation of your condition. At the end of your evaluation, our physicians will review treatment options and help you understand why you are experiencing the pain or symptoms you have.